You can use Learn-WiseGo to organize and host webinars using a 3rd party webinar tool. Learn-WiseGo currently supports GoTo Training and WebEx. This FAQ focuses on WebEx. If you want to use GoTo Training, please see the FAQ dedicated to organizing webinars with GoTo Training.
Before you can host a webinar in Learn-WiseGo using WebEx, you need to
Create a WebEx Account
Connect your WebEx Account to Learn-WiseGo using this WebEx account information
Username
Password
Base URL
Site ID
Partner ID
Max No. of attendees (this is dependent on the plan you have purchased from WebEx)
To create a WebEx Account:
1) Contact WebEx customer service at 1 (866) 229-3239.
*Note: There are different types of WebEx webinar products. Please be sure to request a WebEx Meeting Center account.
2) Once your account is set up, a WebEx Site Administrator email will be sent to you. Use the information in this email to set up your WebEx account.
3) After your WebEx account is set up, contact the support team to enable your API service for your site. This can be done by calling WebEx technical support team at
1 (408) 906-2222.
4) Once these steps are completed, all the information that is necessary for setting up a Webinar using WebEx will be available in the SITE administrator section of the WebEx account.
Once your WebEx account is set up, you can connect it to Learn-WiseGo. You can do this from the "Create Instructor Led Training - Webinar" or through the Settings > Application tab.
You will only need to enter this information one time.
Select WebEx from the drop-down menu under Webinar Tools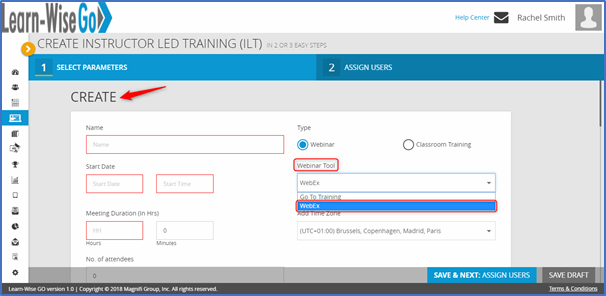 Select "Enter Webinar Details" > Enter Username, Password, Base URL, Site ID, Partner ID and Max no. of attendees > Click "Submit"