There are two categories of questions you can create in Articulate Storyline: Graded Questions and Freeform Questions.
This FAQ will focus on Freeform Questions.
Freeform Questions include: Drag-and-Drop, Pick One, Pick Many, Text Entry, Hotspot and Shortcut Key.
Learn-WiseGo will capture your question text if you follow these instructions: https://community.articulate.com/discussions/articulate-storyline/lms-results-displaying-slide-names-as-pick-one
Important Tip for Answers to Freeform Questions:
To make reports slightly more decipherable, clients should take care to LABEL the elements involved in the question. I do this from the Slide View Timeline.
Leaving things with the default names on "Picture 1"or "rectangle 2"will not help you understand the data that is transferred to your Learn-WiseGo reports.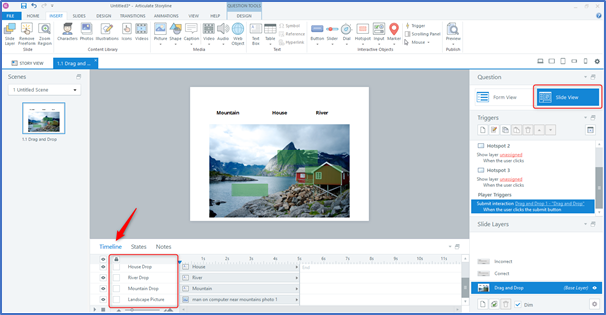 From the FORM VIEW, you can see why good Labels are important. Taking the time to create clear and relevant labels will help you understand your reports.